I have just watched
Paris, Je T'aime
in the hope that it might rekindle my lost love for the French language, the missing third of my degree which has not really crossed my mind in the past year. However what I hoped to be an exciting reintroduction to a lost passion turned out to be quite disappointing- I was depressingly reliant on the subtitles and, perhaps even more saddening, I found I didn't really care that much for the language anyway. Maybe my love for French will finally be revived after my month-long course in Dijon at the end of August but, for the moment, I think the spark has disappeared out of our once passionate relationship.
On the other hand I think I am increasingly finding my niche in studying Chinese. Even though I have forgotten a fair amount of vocabulary and grammatical constructions since leaving Beijing, I am thouroughly enjoying my Chinese lessons here in Erlangen and in some ways, I think it has been benificial for me to have a short break in my learning of the language. More and more I am finding I get a 'kick' out of learning it and it is one of the few work-related things which I really look forward to doing. I am already planning to include Chinese in my PGCE (teaching qualification which hopefully I should be starting in 2012) but I am also strongly considering the idea of doing a Masters in Chinese Studies at some point in my life. To do it straight after my degree wouldn't be a great idea- I'd have to take out another large loan on top of my student loan and even so, I
do
want to become a teacher so why spend an extra year and a lot of money overqualifying myself? However I don't know whether I want to spend my whole life as a teacher so if I manage to get a certain amount of money together, an MA should still be an option for me if I want to pursue it.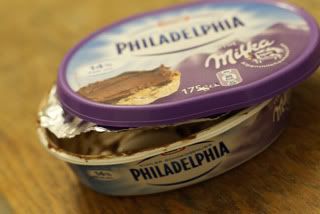 On a somewhat lighter note: I think I may have discovered one of the tastiest foodstuffs ever. Milka-flavoured Philadelphia might sound a bit strange on paper but in reality is dangerously addictive and impossible not to eat large quantities of straight out of the tub. Sample at your peril! Except you can't sample any of mine because I've eaten it all.
Tschüss!