Not long after our friendship group (nicknamed 'The Lads'- I was the only female member) had started to take shape, we decided that it would be fun to venture out on a bit of travelling before we all left for our respective home countries. We initially looked into going down to the southern provinces of Yunnan and Hainan but after chasing round a number of Beijing hospitals trying to find malaria tablets with very little success, it was decided that we should visit somewhere we would find interesting yet which didn't face us with the possibility of catching a deadly disease. Eventually we decided to take the following route: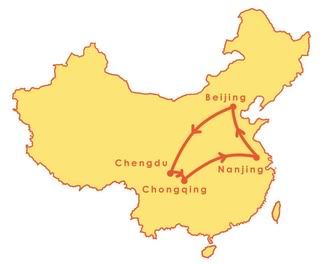 Chengdu
After a three-hour flight, during which we were presented with some of what I imagine would be a strong contender for the title of Worst Airline Food Ever, we touched down in the green, leafy city of Chengdu, the largest settlement in Sichuan province. I was immediately struck by how much more habitable it seemed than Beijing: the skyline was lower, the roads weren't quite as tightly rammed with cars and the air felt far more humid than the biting winds of the capital. Sim's Cozy Garden Hostel, which was to be our home for the next four nights, was nicely done out and had a great cheap-and-cheerful atmosphere. Luckily the seven of us had a room to ourselves and the first night consisted of staying up chatting and giggling like ten-year-olds at a sleepover until we finally succumbed to our tiredness at 4 in the morning.
On our first morning in Chengdu we took a bus to the Tibetan quarter of town and, although fascinated by the glimpse it provided of a different way of life, we were saddended to be presented with the terrible poverty that surrounded us on the streets. The mood was lifted as we had lunch in a traditional Tibetan restaurant and stuffed ourselves with delicious meaty baozi and a new favourite of mine, yak pie.
Chengdu is home to a large panda breeding centre and so on the second morning we went and had a look. Pandas generally wake early, stuff themselves with bamboo and then sleep for the rest of the day, saving their energy for the rare occasion when they decide to mate (or 'copulate' as the centre eloquently put it) and so at 8am we were already standing poised beside their enclosures with our cameras at the ready . They didn't disappoint- we stood there for hours, mesmerised by these adorable vegetarian bears which lay on their backs crunching through sticks of bamboo. We were then shown a video which told us in detail of the complicated process which goes into getting pandas to procreate and of how, at six weeks old, the panda cubs leave their mother to go and socialise with their 'contemporaries'. We also stumbled across a photo of John Prescott cuddling a baby panda on a visit to the centre which tickled the Brits among us.
Whilst staying in Chengdu we also went for Sichuan
hotpot
(sounds fun in theory, in reality it was a bit of a faff), drove a long way out of the city to visit a giant Buddha carved into a cliff at Leshan and taught the young son of a restaurant owner how to high-five and give a thumbs-up.
All in all, Chengdu was a lovely place to stay and a refreshing change from dry, mucky Beijing. Perhaps we were all a little too optimistic when we boarded the two-hour train to..
Chongqing
I do not wish to give Chongqing a bad name, but my experience of the place was not pleasant. Even though the grey skies and temperatures on the wrong side of zero didn't do the city much justice, I think that even on a good day it wouldn't be the most aesthetically pleasing of places. We took a hilly bus ride from the station to
Ciqikou
, the traditional market area in which the hostel was located, and wandered around for what felt like ages trying to find our home for the night. Perfect Time Hostel unfortunately didn't quite live up to its name- it wasn't expensive at £2.90 a night but for that much I still would have appreciated the back door to have been closed instead of allowing a freezing draught to work its way into our unheated bedrooms. We whiled away the evening in the (also chilly) bar, drinking Tsingtao beer, playing pool and murdering various pop hits on the hostel's karaoke machine. I then spent an incredibly uncomfortable night curled up tightly underneath a thin duvet and waking up periodically to nurse my icy feet, and when the morning finally came I wasn't sad at all to be able to wave goodbye to the place as we left for the airport.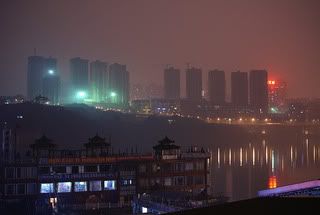 Our main reason for staying in Chongqing was that the flights out of there were a lot cheaper than from Chengdu, but there must have been some kind of error with the travel agent we booked with because after rushing to get to the airport for what we thought was an early morning flight, checking in our baggage and passing through security, we looked at our tickets and realised that we had turned up nine hours early for boarding. However what could have been an incredibly boring day with us getting on each other's nerves actually turned out to be quite good fun, with the help of a pack of playing cards and comfy sofas provided by Starbucks.
Nanjing


Our arrival in Nanjing was, for me, somewhat tinged with sadness, as for Dan and I it would be the final leg of our journey and the place where we would have to say goodbye to our friends, not knowing when we would see many of them again. Our base for the three nights we would spend there, the Jasmine Hostel, wasn't too bad, even though Clare and I discovered with horror that we had a heavily snoring roommate who had a habit of leaving orange peel all over the floor.

On the first day we made the unanimous decision to visit the Nanjing Massacre Memorial Hall, a large area devoted to the large number of Nanjingers who lost their lives to the Japanese in 1937. We ended up staying there for nearly five hours which, although interesting, was incredibly intense and by the end we all felt a bit overwhelmed by the melancholy atmosphere and the vast amounts of historical information which were presented to us.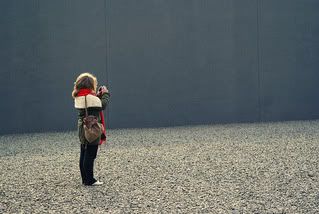 On our second day in Nanjing and our last full day together we took a bus out of town and climbed a mountain that would have been quite pleasant had there been less litter lying about, then took a little road train to Sun Yat-Sen's mausoleum (I don't quite know the details of why he was so important but I was told he was the founder of modern China). Despite the cold winds there were Chinese tourists in abundance and Clare and I were hounded for quite a while by a group of women seemingly desperate to have their photo taken with two white girls.



That night we went out to a nice duck restaurant near the hostel and sat around making toasts and laughing about the fun times we'd had together. We ambled back to the hostel's bar where the chatting and joking continued, with Dan and I drinking celebratory shots of baijiu forced upon us by the others. We then had a surprise as Jack and Alex had made up songs for each of us which, although hilarious in parts, left me with tears streaming down my face by the end. Thinking back to that night still leaves me feeling sad as I remember how none of us really wanted to go to bed because that would signal the end of our journey together.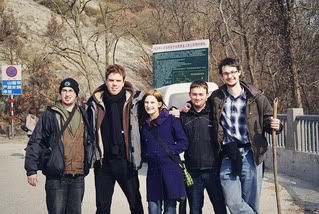 Unfortunately this story doesn't have a very pleasant ending- Dan and I were rudely awoken at 4am in order to catch our flight back to Beijing and we parted with sleepy, tearful goodbyes in the freezing cold. We arrived back to a very empty-feeling Building 17 but made the best of the next couple of days with trips to the Forbidden City and down to our local on the last night.

And that brings me up to the start of my previous blog entry.. if you've read through all of this then congratulations!

Zaijian!