Da jia hao!

Unfortunately it seems that once again this blog has been left slightly neglected, although I'm pleased to say that unlike previously when I didn't want to update on what a good time I was having when frankly I wasn't, this time my forgetting to do so has been due to my life becoming increasingly busy, exciting and, at times, slightly nerve-wracking.
So what have I been up to in the few weeks that have passed since my last entry? One thing our little gang has been doing is working our way through the famous sights in an around Beijing. This has ranged from exploring the oasis of calm which was the Back Lakes and the
hutongs
which gave us a fascinating (if slightly mocked-up) glimpse of the Beijing of yesteryear, risking life and limb pedalo-ing on Kunming Lake at the Summer Palace and braving the onslaught of 'hey lady, you want a bags? I have Louis Vuitton for beautiful lady!' at the Silk Market, a Mecca for cheap but unashamedly fake designer labels. Last but not least we went through the apparant rite of passage for all tourists in China and made a trip to that most famous of attractions, the Great Wall. Unfortunately we visited on a particularly hot day so walking along the wall itself wasn't an especially pleasant experience after a while, but what made up for it was the chairlift up the mountain which, although a bit dicey-looking, offered fantastic views, and the descent back down again, which comprised of sliding down hundreds of metres of metal track on a little toboggan which seemed to have the ability to reach scarily high speeds incredibly quickly! However even more scary was the driving of our taxi driver on the way back to the bus stop; I think the British police would have a field day arresting people for dangerous driving if they were operating in China.
One recently added facet to my life here has been my acquisition of a job. A few weeks ago I decided to take the plunge and reply to an advert regarding teaching six to seven-year-olds at a small after-school centre near the university. After having psyched myself up for the interview I made my way down to the centre, only to be approached by a young guy asking if I'd like to work tutoring teenagers at a different language centre. A little overwhelmed, I gave him my details and carried on to my interview. Upon arriving I was greeted by a lady named Polaris 'but you can call me Fish' (a slightly strange choice of nickname perhaps, but given that my Chinese name is Xiaoyu or 'little fish' I can hardly talk) and was subsequently told to plan and conduct a short lesson teaching food and drink vocabulary, with the other teachers acting as pupils. Feeling rather as if I'd been thrown in at the deep end, I held up some flashcards and, trying not to let my nerves show, attempted to teach my 'students' the names of various foodstuffs. I must admit a certain part of me died inside when forced to teach them the word 'candy' in place of 'sweets', but I realise that anywhere you go a certain amount of Americanisation (-zation?) is inevitable.
Anyway, I also went to an interview for the second job the following day which went in a slightly more straighforward manner, and ended up in the position of having been landed with two jobs in two days. I did for a short while consider taking both of them on but after some thought decided that it would've been too much to do long-term. Instead I plumped for the second job due to the fact that the first interview scared me slightly and that in general I felt more comfortable with the prospect of teaching young adults than small children.
Not long after my interview I got a call from my new boss telling me of an art school on the other side of the city that needed a teacher for their supplementary English lessons. Although slightly daunting, especially upon entering the room and receiving a large number of stares from my new students, my first lesson went really well under the circumstances and after the two hours I was left buzzing with the adrenalin of taking myself out of my comfort zone and finding that here was something I could actually be pretty good at. One thing that did help my cause was the combination of the respect that the Chinese have for their teachers and my students' apparant fascination with this young female westerner who had come to teach them the conjugations of 'to have' and 'to be'. After the lesson I was approached by a large female contingent of the class asking for my autograph and to have their photo taken with me; the male students instead decided to give me a classic 'I love you!' upon parting. I give my third lesson in a couple of days' time- hopefully I will manage to maintain their enthusiasm once (if?) the novelty of being taught by me has worn off.
Another new experience that I recently underwent here was my first time running with the
Beijing Hash House Harriers
, an eccentric expat club that describes itself as 'a drinking club with a running problem'. I mentioned in an earlier blog post that I had taken to doing a few laps round the uni's running track every few days but this, it seems, was no preparation for the full-on assault on the system that was last Sunday's run. At the pre-run meet we came across Hashers of various nationalities, although mostly American, who introduced themselves not by their birth name (apparantly a taboo in the world of Hashing) but with names such as 'Snot', 'Petting Zoo' and 'Lil Sai W***er'. The run consisted of following a trail through the hutongs laid down by the leaders or 'hares', complete with a beer stop and loud cries of 'on-on!', 'are you?' and 'open check!' to keep us all on the right path. What was most amusing was the looks on the faces of the local inhabitants who seemed incredibly bemused by this large group of foreigners rampaging through their backstreets. The run ended with us standing in a large circle armed with copious amounts of Tsingtao beer and singing various rowdy, sexist and innuendo-loaded songs which all ended with us taking a few large swigs from our bottles. The most amusing (and true) of these songs was the Beijing Hash Song, sung to the tune of 'Daisy, Daisy' and with the following lyrics:
Beijing! Beijing!
a wonderful place to hash
We have great fun
Dodging the shit and trash
Our skies are never clear
But we have cheaper beer
We like our drink, our singing stinks.
Welcome to the Beijing hash.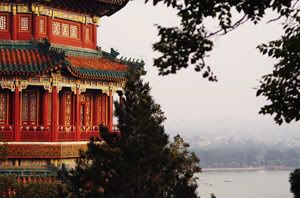 Lastly, it seems that I'm not the only person who, in naming this blog, has likened the multifariousness (I'll admit to having found that word with the help of a thesaurus) of life to a casserole; upon doing a quick Google of the title I discovered that the band Guttermouth has written a song of the same name, with a a chorus which goes '
the versatile diversity of
casserole
is similar to living
life
/ The ingredients are things that you can't live without
' etc. etc. Although not the most lyrically poetic of songs, I was very excited to find out this little gem of information.
Righty-ho, I think by now this post is definitely long enough so time to say my goodbyes.. zaijian!